I have heard so many misconceptions about leadership and being a leader. One of them, in particular, is that being a leader is something someone gives you. It often sounds like: "I need to be in X role to lead," or "I am just a developer," or "That's not my role," or "I need permission to lead." The good news is that there are many more opportunities to lead. This also means anyone can be a leader.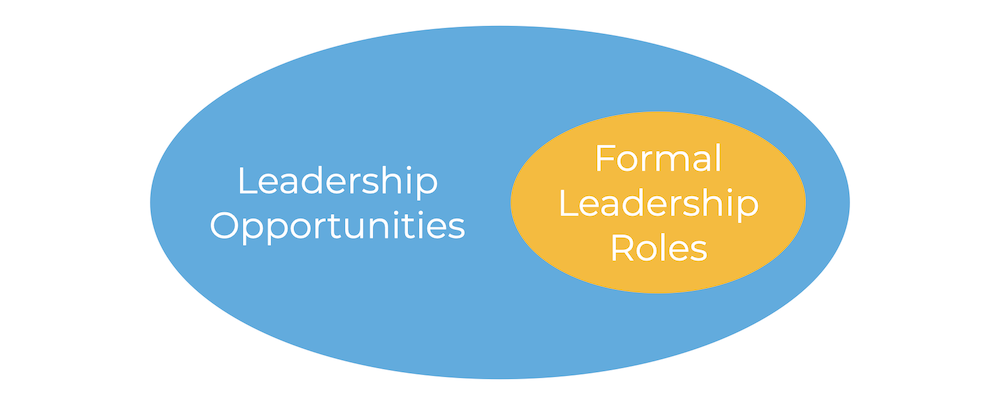 Leadership as a role
People associate leadership with titles like a Tech Lead, Engineering Manager, Director or CTO. I like to refer to these as formal leadership roles. Each role comes with a set of expectations and competent people in those roles should demonstrate outstanding leadership skills.
Formal leadership roles come with a set of responsibilities. But a formal leadership role also comes with accountability. A person in a formal role can, and should, delegate their responsibilities (i.e. tasks and/or activities). They cannot delegate accountability. Their role is to ensure someone (themself or their team) promptly takes care of particular responsibilities. If you do not have a formal leadership role, asking for more responsibilities is a great start to growing as a leader.
Leadership as a collective noun
Companies, departments and teams all draw on the concept of a "leadership team." A single person is never enough to manage complexity which is why leadership teams exist. People playing all the C-level roles might make up an executive team. A product engineering team often has an informal leadership team composed of a Tech Lead, Engineering Manager and Product Manager.
Many leadership teams also have fluid team membership, creating opportunities for people to learn or shadow the leadership team, or to contribute expertise and opinion. If you're seeking leadership opportunities, find out how you can join or take part in a leadership team near to you.
Leadership as an ability
Management Consultant, Kathy Austin, has a fun quote, "Managers light a fire under people; leaders light a fire in people." When someone takes on a management role, they don't automatically become a great leader. In fact, many still need to work on their core leadership competencies.
Similarly, I have met many amazing people who demonstrate leadership skills every day who are not managers. Perhaps they are a senior engineer mentoring less experienced team members. Maybe they are a team member who skilfully mediates a conflict between two other team members.
Leadership skills are difficult. They take a long time to build, and you never finish improving them. You don't need to wait for a leadership role to build leadership skills. You shouldn't wait either. Start building your skills before you need them. Anyone can build leadership skills like active listening, coaching, mentoring, influencing, and resolving conflict. These skills will also make you a more effective person. Skill and experience is something you don't need permission to develop. Building skill and experience is also not something anyone can deny you.
Leadership as an action
The final context I see leadership in is one of my favourites. This is the act of leadership. An act of leadership is the most inclusive context. An act of leadership is not exclusive to a role. An act of leadership does not demand certain experience. Often though, an act of leadership requires courage. I have seen some of the most impressive acts of leadership from some of the least experienced people because they had the courage to speak. Perhaps it was pointing to the elephant in the room. Or maybe it was highlighting the team's blind spot. Speaking out is an act of leadership which any courageous person can take.
Anyone can be a leader
Leadership comes in all forms and shapes. While there are formal roles that expect leadership, there are also countless opportunities for people to build leadership skills and to take acts of leadership. Anyone can be a leader. What act of leadership can you take today?
---
Level up your technical leadership skills. Discover self-paced courses at the http://techlead.academy, join a guided remote workshop, "Shortcut to Tech Leadership", or subscribe to Level Up, a free curated newsletter for leaders in tech.